For the green 22 year old, pitching up in Saigon and becoming a war correspondent was deceptively simple. Anyone with two letters from any two media organizations could receive a coveted MACV card, the equivalent rank of Major in the US Army, and free transport on a space available basis anywhere in South Vietnam. It was only later that the rookie came to appreciate that this adventure was a serious business enhanced by considerable danger.
In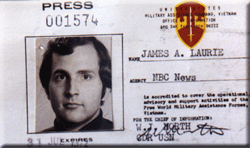 the late 1960's and early 70's, anyone with two letters from any media organization could receive from the Joint U-S Public Affairs Office of the Military Assistance Command Vietnam a Press Card giving the recipient equivalent status of the rank of Major US Army.

Armed with the MACV Card you could go anywhere, anytime - so long as there was space on a plane or helicopter. Reporters took their chances. A seat on a C-130 supply plane might be available going north. A seat with the 'body bags' flew you back to Saigon.

These were the days BEFORE embedded reporters and photographers, and the carefully
arranged reporting trips awarded to journalists today covering US forces in Iraq and Afghanistan.

The Vietnamese issued their own Press ID's. The Bao Chi - news reporter - card with the
familiar yellow and red stripes of the South Vietnamese flag across the top. It however carried with it few benefits.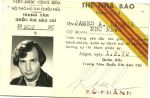 The MACV card offered greater advantages. It allowed access to officers quarters for meals and to the Post Exchange or PX in Cholon with cigarettes beer, and whiskey at discount prices.

Some way to cover a war...eh?

In Saigon - the roof of the "Brink's BOQ" was a popular destination. Westmoreland (General William Westmoreland - US Commander in Vietnam 1964 - 1968), I was told, had made certain that Nha Trang 'lobsters' were on the menu.

In 2009, the site "Brink" became occupied by the luxurious Park Hyatt Saigon Hotel.
There is a small plaque outside the hotel giving just a hint of the danger found on this street corner 50 years ago. The plaque praises the heroism of the "liberation" soldiers who set off 250 pounds of plastic explosives on Christmas Eve 1964.